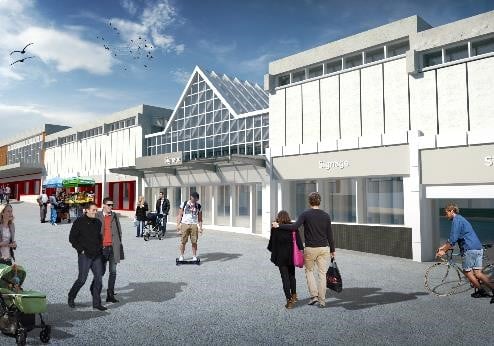 Exciting times ahead at The Cornbow
Exciting times ahead at The Cornbow
The Cornbow shopping centre will be investing in a £1.2m, two-phased improvement project to uplift the character of Halesowen shopping.
Phase one of the regeneration programme is due to commence on the 24th July 2017 and will begin with external works to the shopping centre façade.
The changes you will notice include:
Modernised canopies
The existing canopies and structural beams to Queensway and Hagley Street will be removed and a new entrance canopy on Hagley Street will be constructed in place of the existing towers. These improvements will make the entrance area and shop fronts clearer and lighter, creating a more appealing shopper experience with a more modern and open entrance area.
Sparkling-clean walls
The exterior walls of Cornbow will benefit from a deep-clean, which will improve the overall look of the centre. This will create a newly-polished look to the exterior, reviving the shopping centre to its peak.
The first phase is focused on the exterior of the whole shopping centre and will certainly improve its look, ready for the phase two which will entail various internal improvements next year.
A thriving community
All of the 45 tenants at The Cornbow will benefit from this vast improvement. With works taking place out of normal trading hours, throughout the evening, there will be minimal disruption to tenants and shoppers.
Restoring and regenerating the shopping centre will not only support the existing tenants but it will help attract more customers as well as encouraging further retail and leisure investment at the centre.
Phase one works are due to be completed in the Autumn of 2017 and phase two will start early 2018. The second phase of the redevelopment is still in planning stages and it will involve interior improvements to centre lighting, flooring, heating and ceilings.
Over the next year the redevelopment will piece together to transform The Cornbow shopping centre into the ultimate, modernised shopping experience.